NBHE Kitchen: Chicken and Broccoli Braid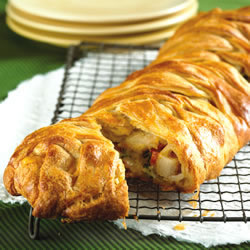 Ingredients:
2 cups

cubed cooked chicken breast

1 cup

chopped fresh broccoli

1 cup

(4 ounces) shredded reduced-fat cheddar cheese

1/2 cup

chopped sweet red pepper

2 teaspoons

dill weed

2 garlic cloves, minced

1/4 teaspoon

salt

1/4 cup

reduced-fat mayonnaise

1/4 cup

reduced-fat plain yogurt

2 tubes (8 ounces each) refrigerated reduced-fat crescent rolls

1 egg white, lightly beaten

1 tablespoon

slivered almonds
Directions
In a large bowl, combine the first seven ingredients. Stir in mayonnaise and yogurt. Unroll both tubes of crescent dough onto an ungreased baking sheet; press together, forming a 15-in. x 12-in. rectangle. Seal seams and perforations. Spoon filling lengthwise down the center third of dough.

On each long side, cut dough 3 in. toward the center at 1-1/2-in. intervals, forming strips. Bring one strip from each side over filling; pinch ends to seal. Repeat. Pinch ends of loaf to seal.

Brush with egg white; sprinkle with almonds. Bake at 375° for 15-20 minutes or until crust is golden brown and filling is heated through. Yield: 8 servings.
Taken from allrecipes.com
.