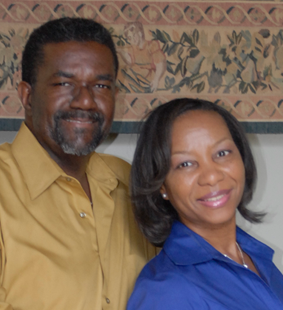 The National Black Home Educators (NBHE) is a resource network founded by Eric and Joyce Burges in July 2000. This association will encourage, support and offer fellowship to families who are exploring benefits of home education. Eric and his wife, Joyce, have homeschooled for nearly 25 years.
Eric graduated 2 sons, Eric, Jr. and Lawrence and a daughter, Candace from their school, The Most Excellent Academy. He was the president of CHEF of Louisiana, a homeschool organization in Louisiana, for three years. He now serves as Immediate Past-President with the board of directors.
Eric is also an artist, speaker, songwriter and singer, as well as a licensed minister. One of the most interesting and memorable moments for Eric is when he can participate with each child with a hands-on activity. Eric enjoys simple woodcrafts and building projects. He finds building fences with his sons and working on simple wood projects with his daughters priceless. Eric is a sought out speaker all across the country.
Joyce is a gifted singer, homeschool mother/teacher of five, advisor and lecturer. She is the mother of five children ranging from the ages of 38-19 years old. She has spoken to many women locally and nationally. She present topics such as – A Home School Tour, The Art of the Gentlewoman, Recapturing the Flair of Femininity, etc. She is a frequent speaker to young girls homes where she encourages them on the principles of healing past hurts, finding your identity in your image, valuing your integrity, and maintaining a great love for yourself through serving others.
Joyce sings in churches, professional women's groups, women's conferences, civic events, and home school conferences. Musically speaking, Joyce feels that if she can usher in a presence of incredible love and joy she has touched the center of someone's life. Joyce remembers teaching the children vocally as well as some piano. She values this time with each child and credits these moments as some of her most memorable ones.
The National Black Home Educators, a premier networking organization founded by the Burgeses, was created to serve the community by providing assistance with information about getting started homeschool, networking/connecting veteran families with new families, recommending resources such as books, music, films, speaking information, curriculum, etc. NBHE's mission endeavors to empower parents to educate their children for excellence.
The Burges family was featured in several periodicals such as Newsweek Magazine (Oct. 98) and the Boston Globe (Aug. 22, 2000). The family also appeared in The Crisis Magazine, a NAACP national publication as well as Africana Internet Publication (Jan. 2001) and other local and national magazines and newspaper. Recently, Joyce and her son, Eric, Jr. were guest on BET Tonight, national broadcast hosted by Queen Latifah on August 15, 200l. They were also featured in Essence Magazine (Sept. 2002), Jet Magazine (Sept. 2003).